Lives Of The Artists: Justin Bryan Nelson
---
Begone/Bygone, 2010, ink and watercolor on paper
My name is Justin (Bryan) Nelson, and I'm an illustrator currently residing in Tampa, Florida.
As far back as I can remember, I've always been happy with a piece of paper and a pencil in front of me.
As I got older, I really got into comics and started creating my own super heroes and comic books. During high school, I kind of fell out of it and didn't really make art again until I came across a stack of street art books while working at a bookstore. I wasted a good hour in the stockroom staring at the pages in the books while no one was looking. I discovered that there was this whole community of underground artists that I never knew existed, creating things I'd never seen before. It was really inspiring and eye-opening, and it pushed me to start making art again. I experimented with street art for about a year and eventually found my way back to drawing.
Wound Tight, 2010, pencil, ink, and acrylic on paper
I'm a self-taught artist. I decided to forgo art school due to the expense and try things on my own. That decision has turned out to be a blessing and a curse. The blessing is the reward of learning things on my own; I feel that it gives me a unique perspective on the creative process. The curse comes in the same sense; learning things on my own can be extremely frustrating sometimes. There is a lot of trial and error, but when I succeed at something the reward far outweighs the moment of frustration.
They Will Appear, 2009, ink on paper
Black ink is my medium of choice. I'm in love with simplicity and minimalism, and to me there is no simpler way of creating art than with pen and paper.
I love the fine lines I'm able to achieve with a micron, my favorite pen. Lately I've also been really interested in watercolor, so subtle amounts of color are starting to appear in my drawings. The color acts as a positive balance to the ominous black in a lot of my art. While a lot of the time my illustrations focus on negativity, I don't want the viewer to see them as purely negative creations. I don't want them to be a burden on the viewer.
The Day You Burst, 2009, ink, acrylic, and gouache on paper
People tend to ask me why I draw so much hair. It was sort of a natural progression for me.
Cut It, 2009, ink and colored pencil on paper
While I love the simplicity of ink and paper, I also love lots of detail. It's strange, I know, to love so much detail while trying to implement minimalism into my work. I think the hair is a way to control my obsession with minute details and focus it into something more productive. I have a tendency to overwork some illustrations because I don't know when to quit. The hair has helped me to get a handle on that problem.
Pessimysticism, 2010, ink and watercolor on paper
With that being said, the hair slowly started to become symbolic of some of the darker things I've struggled with. I guess you could say it's representative of me wrestling with myself and the anxiety that seems to plague my thoughts so often. It's hard not to worry when I watch the news, and I'm constantly hammered with the sense of dread that is so prevalent in the reports. I have to remind myself that good things still happen and good people still exist, even though it is contradictory to what the talking head on the television is saying. The color in my work is that reminder to myself – the world isn't as bad as that talking head says it is.
Thinking, 2009, pencil and ink on paper
As cliché as it sounds, art-making for me is a release. It's the moment of the day I get to sit down and spill myself out onto a piece of paper and let go of all the baggage I carried around on that particular day. It's channeling all of the negative energy I have and turning it into a positive experience. It's therapy for me.
Drawing is the only way I can fully articulate my thoughts. Whether the viewer of the work will understand what I'm trying to say or not is beside the point when I'm creating. Not to say that communication through my work is meaningless to me, but my work is deeply personal and acts as a journal of all my most recent experiences and thoughts.
If the viewer happens to connect with what I'm doing, it is icing on the proverbial cake.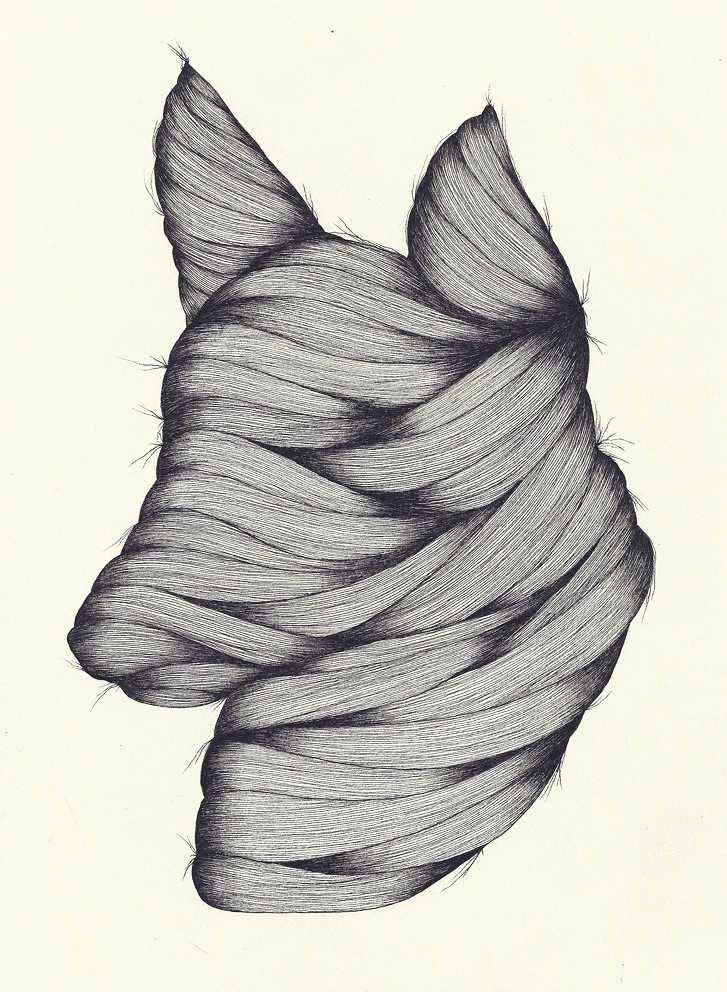 Pack Mentality, 2010, ink on paper
Justin Bryan Nelson on Twitter
Justin Bryan Nelson on Big Cartel
This autobiography is part of the Lives Of The Artists series.
---