Oscar Niemeyer – Architect of the People
---
Architecture was my way of expressing my ideals: to be simple, to create a world equal to everyone, to look at people with optimism, that everyone has a gift. I don't want anything but general happiness. Why is that bad?
– Oscar Niemeyer
Did you know that the United Nations building in New York was designed by a communist?
The building was completed in 1952 in the Turtle Bay neighbourhood of Manhattan, and represented the idealism of a post WWII world wearied by the ongoing conflict in Korea and the paranoia of the Cold War. The most notable of the architects involved were, Le Corbusier, Wallace K. Harrison and Oscar Niemeyer but the final design was based on the latter's drawings. Niemeyer's original design had placed the building at the edge of the site but the young architect gave in to Le Corbusier's demand that it should be placed centrally, which ruined the design in Niemeyer's opinion. This illustrates one of the architect's key principles, that the building and its environment be treated as a whole. For Niemeyer, the higher aim was beauty, not the dominant functionalism of Le Corbusier and the Bauhaus, which he hated.
We hated Bauhaus. It was a bad time in architecture. They just didn't have any talent. All they had were rules. Even for knives and forks they created rules. Picasso would never have accepted rules. The house is like a machine? No! The mechanical is ugly. The rule is the worst thing. You just want to break it. – Oscar Niemeyer
UN Building, New York City
Oscar Niemeyer was born in Rio de Janeiro in 1907 and is still alive and working today, at 103 years of age.  He did not graduate as an architect until 1934: dissatisfied with the local architecture he determined to make it his career. In 1943 he completed the Pampulha complex around an artificial lake, comprising a Church of St Francis of Assisi, a casino, a dance hall, a restaurant, a yacht club, and a golf club. The work received international acclaim and made possible his inclusion on the team appointed to design the UN building.
I deliberately disregarded the right angle and rationalist architecture designed with ruler and square to boldly enter the world of curves and straight lines offered by reinforced concrete. –  Oscar Niemeyer.
Pampulha Complex, 1943
In 1945, Niemeyer had joined the Brazilian Communist Party and despite his being selected as Dean of the Harvard Graduate School of Design, he was refused an entry visa to the United States.
I had some good opportunities. I was lucky to have had the chance to do things differently. Architecture is about surprise. – Oscar Niemeyer
Niemeyer's Ibirapuera Auditorium, designed in the 1950s but built only recently, well illustrates the principle of surprise. A simple, white trapezoidal wedge is punctuated by a vivid red flame, perhaps signifying the power of theatrical words. The red and white theme is carried through into the interior in free flowing curves of sculptural decoration.
Auditorium, Ibirapuera Park, Brazil
Interior of Ibirapuera Auditorium
In 1956, Oscar Niemeyer was appointed by the president to be the principal architect of Brasilia, the new capital of Brazil. The project included many government buildings and the Cathedral of Brasilia, the latter being a relatively small but startlingly innovative structure of 16 hyperboloid concrete sections. The interior is flooded with light from the full height windows, decorated with flowing, abstract shapes.
Cathedral of Brasilia, 1970
Interior of the Cathedral of Brasilia
Montage of buildings in Brasilia
 Asked if he would change anything about Brasilia, he replied:
I think it is okay like it is. To be really honest, I prefer Rio de Janeiro much more than Brasília. I like the mess, even with the violence. But if you talk with Brasília's inhabitants, they don't want to leave the city.
The vast project to build the new city was completed in only four years and was socialist in conception. This idealism was swept away in 1965, when Brazil fell under a right-wing military dictatorship, and Niemeyer was forced to flee to Europe. He opened an office in Paris and designed the French Communist Party Headquarters there. A notable feature is that the dome of the assembly room emerges out of the ground.  Niemeyer described the building as:
a piece of work which will constitute in this city, I am sure, an example of contemporary architecture, and even, permit me to say, a tourist attraction.
Communist Party headquarters, Paris 1972
The close up of Niemeyer's Niteroi Popular Theatre resembles a three dimensional painting by Picasso, and illustrates the depth of his sculptural design. More views of this and other Niemeyer buildings can be seen in this slideshow.
Niteroi Theatre, Rio de Janeiro, 2007
Even more extraordinary is the Niteroi Contemporary Art Museum, standing on its single column, like a recently landed flying saucer at its docking station on the beach.
Niteroi Contemporary Art Museum
Interior of Niteroi Art Museum.
One of the most visually exciting buildings is the Oscar Niemeyer Architectural museum, which features a gallery space in the shape of an eye, in striking yellow and Blue with a spiral ramp.  The constant features of Niemeyer's work are a sculptural harmony of forms and colour, perfectly set in a complementary setting. His world is a realised utopia that, as a socialist, he would wish the world to share.
Here, then, is what I wanted to tell you of my architecture. I created it with courage and idealism, but also with an awareness of the fact that what is important is life, friends and attempting to make this unjust world a better place in which to live. – Oscar Niemeyer
Oscar Niemeyer Architectural Museum, Curitiba, Brazil, 2002
Oscar Niemeyer's views on architecture and life can be seen in this video: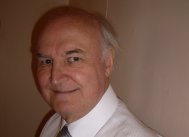 Tony Thomas was born in England in 1939, and is a retired bureaucrat living in Brisbane, Australia. He has an Australian wife, two adult daughters, a dog and a cat. He holds a degree in economics from the University of Queensland. His interests are catholic, and include: philosophy, writing fiction, poetry, and blogging.
---
8 responses to "Oscar Niemeyer – Architect of the People"