Gilbert and George Dream their Dreams Away
---
Gilbert and George, Living Statues
"We try not to have ideas, preferring accidents. To create, you must empty yourself of every artistic thought." Gilbert and George
Gilbert Prousch and George Passmore were war babies, born into poor households on opposite sides of the WWII conflict: Gilbert in Italy in 1943 and George in Plymouth in 1942. They didn't meet until 1967, when they studied sculpture at the St Martins School of Art in London. Gilbert had studied art before moving to England, at the Wolkenstein and Hallein Schools of Art in Austria and the Akademie der Kunst in Munich.  George had studied at the Darlington College of Arts and the Oxford School of art, before attending St Martins.
Although they wore Beatles style suits and pointed shoes, like other young men in the swinging sixties, Gilbert and George were misfits. They hated the current vogue of abstract expressionism and minimalism at St Martins and hit upon the idea of living sculpture to assert their twinned individuality. The music hall comedy duo of Flannagan and Allen would have been anathema to any self-respecting youth in the sixties, let alone the radical students of the British art schools. Perhaps this is exactly why Gilbert and George chose to daub their hands and faces with gold paint and sing  "Underneath the Arches… I dream my dreams away," performing a rather post-modern parody of the popular music hall act of the war years.
George declared "It was love at first sight" when he met the shy Italian boy, who could barely speak English, at St Martins. The double portrait below looks like a wedding photograph, but the boys didn't get married until 2008, when they were well into their sixties.
George the Cunt and Gilbert the Shit 1969, A Magazine Sculpture
It is clear from the 'sculpture' above, that the likely lads had a penchant for shocking their audience. Much less provocative were their large scale monochrome drawings, often featuring the pair in a bucolic setting. The title of the work below suggests a touch of megalomania.
The Tuileries, 1974, Charcoal on paper sculpture
A double act among comedians and singers is very common: Laurel and Hardy, Bob Hope and Bing Crosby and many similar pairings abound, but less so among visual artists. The only example that springs to mind is the three Le Nain brothers, who worked in Paris around 1630. They were unmarried, worked in harmony and produced works not readily distinguishable from each other. The union between Gilbert and George is even closer, since their work is always done in tandem.
MENTAL NO.3, 1976
By the mid-1970s the trademark grid of photographic images, symmetrical composition depicting the artists, and tentative use of colour had been established. Typical of this period is Mental No.3, depicting the architecture of London and spring blossoms, divided by a red cross containing standing images of Gilbert and George.
This series of photographic montages was positively gay, compared with an earlier series depicting the interior of their house in Fournier Street, in the East End. It is perhaps worth mentioning that this area of Whitechapel had been the venue for Jack the Ripper's murders.
DUSTY CORNERS NO.13, 1975
The pair had purchased the decrepit property in 1970, and their mood of isolation and despair is evident in this monochrome series of images, when binge drinking Gilbey's Gin had been their main source of entertainment. The property was yet to be furnished and filled with joy and laughter. By 1977, the artists had plucked up enough courage to use models from the surrounding area, exclusively young men.
The results could be described as a mixture of social realism and individual protest, as evinced by the frequent use of four letter words. However, according to the artists, such political seeming works were but a means to their artistic ends and did not represent their political views, which were ostensibly monarchist and mildly conservative. George's mother was a single parent who had paid for him to have elocution lessons, the result in later life being a close imitation of Prince Charles's fluting tones. This accomplishment did not rub off on Gilbert, who retains a life-long resistance to an English accent of any kind.
This pose, of nice boys whom their mothers could be proud of, renders all the more effective the 'in your face' images that characterize most of their work. Like latter day evangelists, they went about the business of creating the church of Gilbert and George with unflagging seriousness and dedication.
LICK, 1977
By the 1980s, their work had matured enough to include all the primary colours, while retaining black and white as a stark contrast. The painting Winter Flowers, below, is reminiscent of Chagall's eternal lovers, with Gilbert looking down lovingly on George from a springtime tree, as if awakening him from a winter sleep. The black grid lines between the panels have now become well established, giving the works a stained glass window look. In this work, the image has been unified into a figurative foreground and a plausible looking monochrome background, the dividing lines having lost their previous use as separators of distinct images.
These works, with their broad areas of colour and black outlines fit into the category of Pop Art, and resemble the works produced in the US by Warhol and Lichtenstein in the 1960s. However, Gilbert and George have always said that not only do they not emulate any other artists they are completely indifferent to them, drawing their inspiration instead directly from their immediate environment. This protestation is hardly credible given the many years the pair spent in various art schools, but is true insofar as their inspiration makes use of the minutiae of their quotidian experience.
WINTER FLOWERS, 1982
This attitude can be seen from the work below entitled, Inside. The pair stand facing each other, in natty yellow suits, encased inside howling tree monsters, while their super-egoistic heads scream down from above, with mysterious leaves as tongues. The minutiae here are insects, including a cockroach. Like symbolic dreams, the private meaning may be clear only to the artists (or a psychiatrist) who use their works to pile up such iconic images into a mythology of Gilbert and George.
INSIDE, 1983
By the end of the 1980s, Gilbert and George had achieved success in the form of prestigious awards, although not without criticism of their depictions of 'rough' youths and a seemingly unhealthy concentration on bodily fluids. The awards were Regione Lazio Award (Torino) in 1981 and the more important Turner Prize in 1989. This period also included religious iconography as well as overtly homosexual images. Typical of these are Finding God and Sperm Eaters, shown below, the latter achieving the kind of stark simplicity of Matisse's cut-out The Fall of Icarus.
FINDING GOD, 1982
SPERM EATERS, 1982
In the 1990s, Gilbert and George made all-out war on every possible taboo associated with bodily fluids, extending their well-established turd genre to include everything else, such as blood and sperm. Their researches involved using a microscope to examine their own blood cells and urine crystals. They explained this in the following terms:
'Fundamentally, there's something religious about the fact that we're made of shit. We consist of the stuff. It's our nourishment, it belongs to us, we're part of it, and we show this in a positive light'.
This attitude of not excluding anything as a subject for their art arose from their daily walks, were they came across the seamier aspects of life on the streets of Whitechapel.
SHITTY NAKED HUMAN WORLD, 1994
There were also more 'poetic' works, such as Christs, which shows a local youth imagining a butterfly Christ with Gilbert and George wings.
CHRISTS, 1992
This period included paintings large enough to be called murals, comparable to advertising hoardings, but with the product being Gilbert and George themselves.
BLOOD TEARS SPUNK PISS, 1996
In the New Millennium, the artists used a matrix of circular or oval vignettes to build up a compound image. One such example is Animosity, which displays anarchist style handbills or posters collected by the artists on the streets. One should not construe any political bias from this montage, but simply that the material stimulated a new visual direction of artistic development.
ANIMOSITY, 2001
Speculating on the meaning of Gilbert and George's works is entertaining but probably fruitless, as this comment by the artists shows:
We don't want to know what we are doing. It's much better not to know. You have to express yourselves, once you've finished a group of works you have to start all over again. It's extraordinary stuff – what an artist has to do. You finish a big group of works, then the next day you have to begin again. Forty years we've been doing that. Gilbert

We don't want to think. It's exhausting enough without that. George
With an eye on popular trends, the artists updated their living statues routine with a new version, called Bend-It.
Gilbert and George use large photographic studious and meticulous organisation to produce their large scale works, some as big as ten by five metres. Changing over from traditional photography to computer based works took around two years and involved a lot of research to achieve the high resolution required for huge panels. Videos of how they operate can be found on the Tate Modern website, in the context of their 2007 retrospective:
Much of their later work has a religious character, but a religion that reveals the peculiar nature of these Dioscori. The image below entitled Gink shows the pair surrounded by the life giving Ginkgo Biloba leaves, accompanied by a couple of acolytes, rendered smaller than the principals in the Egyptian manner.
GINK, 2005
In 2005, Gilbert and George represented the UK at the Venice Biennale and were awarded the Lorenzo il Magnifico Award in 2007. The crowning glory was the retrospective exhibition at the Tate Modern, which was one of the largest exhibitions ever held in London. Perhaps something of an anticlimax was the award of honorary doctorates by the London Metropolitan University in 2008, when they got to wear even more respectable matching suits.
An extract from the full  ABC video below shows Gilbert and George in conversation with Edmund Capon, the director of the New South Wales Art Gallery: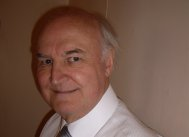 Tony Thomas, born in England in 1939, is a retired bureaucrat living in Brisbane, Australia. He studied painting at art school in the 1960s and holds a degree in economics from the University of Queensland. His interests are catholic, and include: philosophy, writing fiction, poetry, and blogging.
---
One response to "Gilbert and George Dream their Dreams Away"